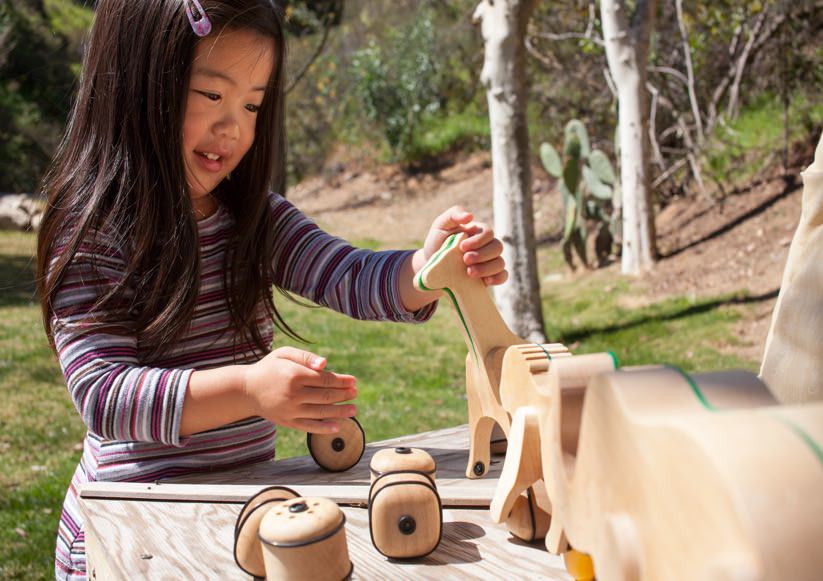 SNAP & ROLL TOY SERIES
Challenge
Design a push / pull toy for toddler and pre-schooler.
Solution
A toy system that children can enjoy play during several phases of learning growth.
MUJI AWARD 04
Judge Recommendation Prize
I particularly liked this idea for kids toys. Simple, adaptable, fixable with different aspects to keep small kids absorbed, the connect-ability, the movement and the play. I also like that it isn't so much about design as it is about the interactive nature of how kids will enjoy the toy. There are not many toys available with this sophisticated mix of features, and the resulting toys have a modest charm which also appeals.
Snap and Roll Toy Series was awarded as Judge Recommendation in MUJI AWARD 04. Theme for 2013 was "Long Lasting Design for Living"
There has been 4,824 applications from 49 countries. 2 Gold Prize, 5 Bronze Prize, and 10 Judge Recommendation Prize was chosen.
Design Criteria From Research Findings
ADD AND SUBTRACT

Toy that you can add / subtract features to fit age needs

ASPECT AS OBJECT

Can be also seen as simple sculpture, so adults will keep them

WOW THEN AHA

Toddler wows to effect, and pre-schooler understands the cause later on

EASILY FIXABLE

Made of simple parts and assembly, so parents can fix (or upgrade) toys easily
3 year old pulled the string on push-pull toy, but 5 years old was more into role play using same toy.

Different age, attracted to different feature.

Pre-schooler ask for new toys, but toddler are not as opinionated. Parents care about how it looks.

Be appealing to adults as well as pre-schooler.

In same toy, toddler gets excited to motion and sound, where pre-schooler picks it up and see how it works.

Let children discover what is going on.

When something is not going right, child goes "Daddy, fix it" It really upsets them when it cannot be fixed.

Fixable, than unbreakable.
Primary Research: Observation

20 months old boy
Gets bored of playing with toys very fast
See how adults react while playing
Gets distracted easily
Use one word phase
5 year old girl
Does not want to share toys
Role play involved
Interest in how toys work
Likes playing game on iPhone
2 year old boy
Likes to go far away
Finds his own ways of playing, but gets bored soon
Plays alone
Through and tosses everything
4 year old girl
Original role play (farmer) continues for more than 30 min
Play with group

Initial Idea Sketches From Insights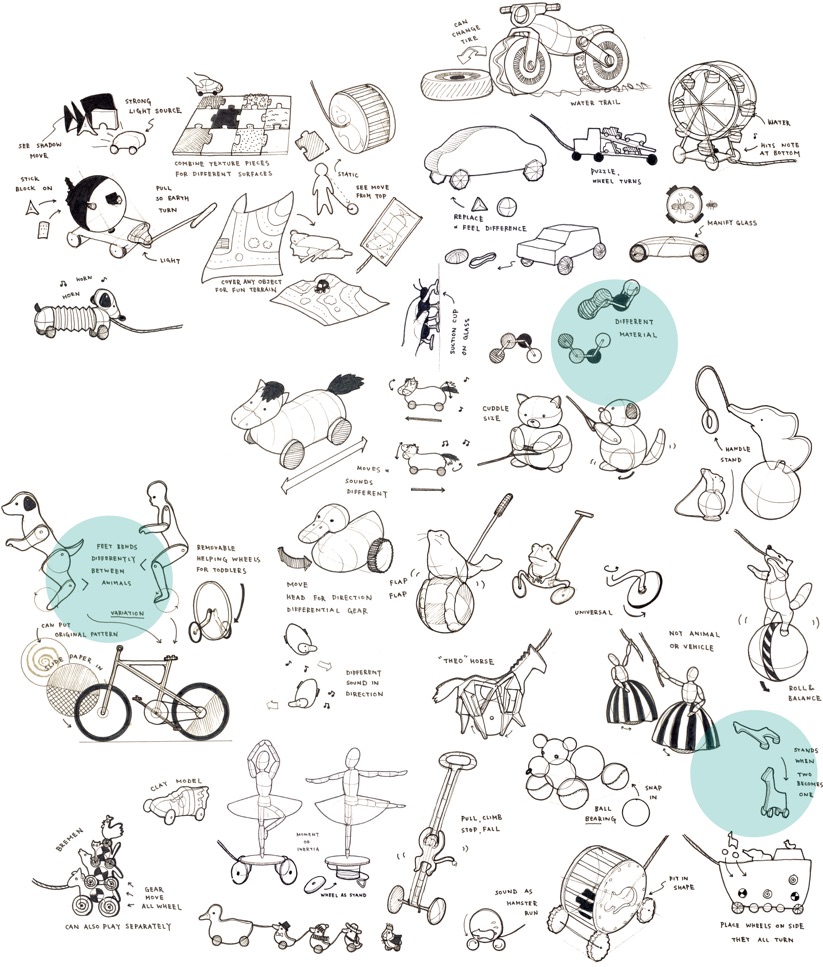 Brand Form Analysis
I chose MUJI as my target brand. Its form and styles of current toys were analyzed.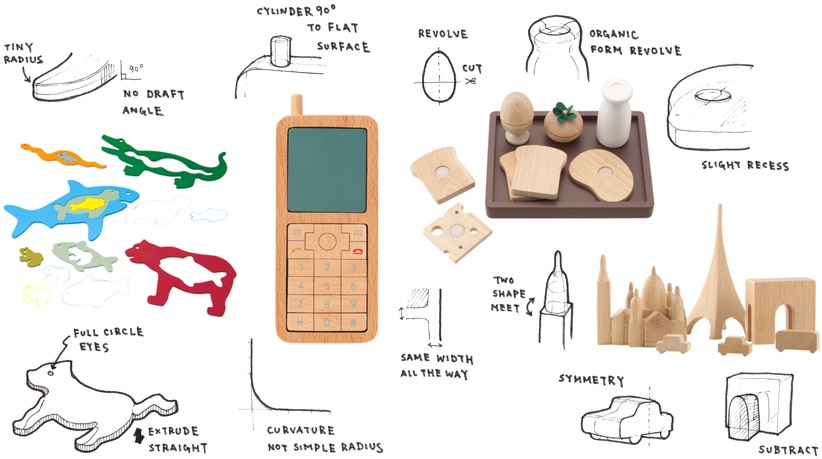 Concept Development
Three directions were chosen for further ideation.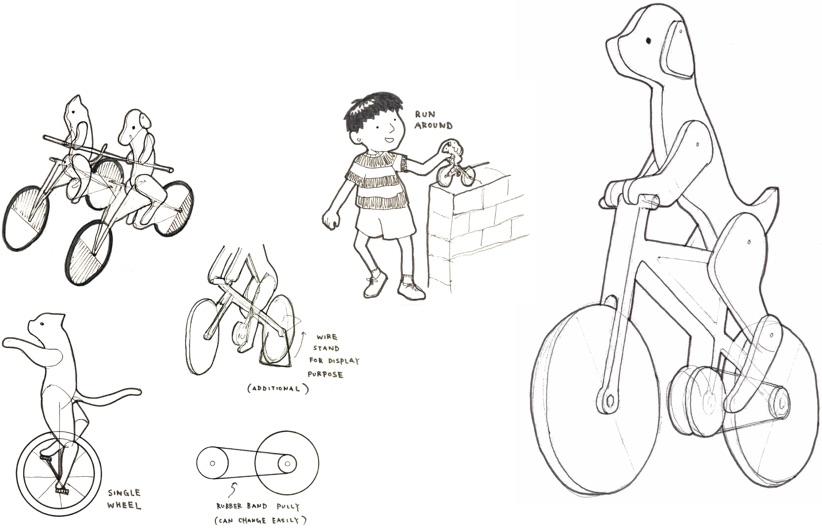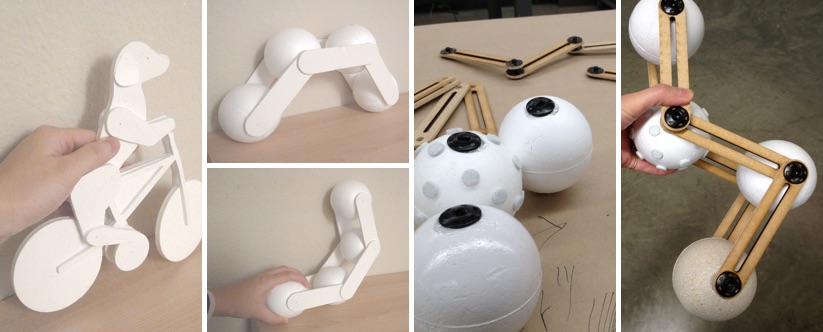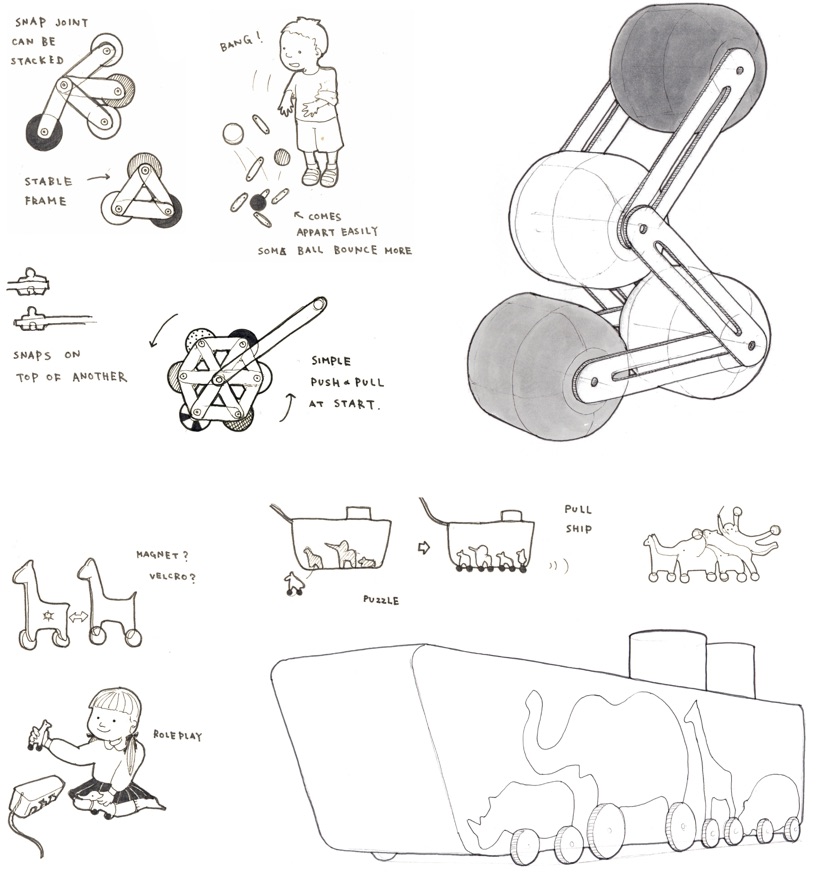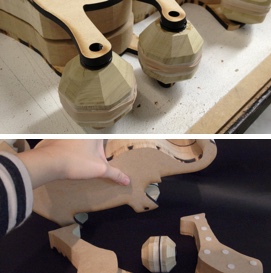 Last study model made with MDF to test the motion.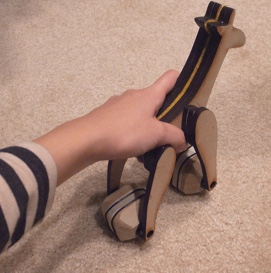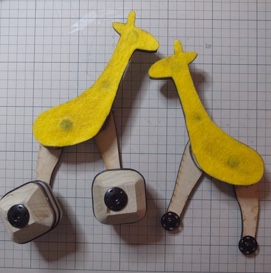 Idea of using clothing snaps and magnet came up during this study.
Final Design
To make it a series, three types of kit was designed.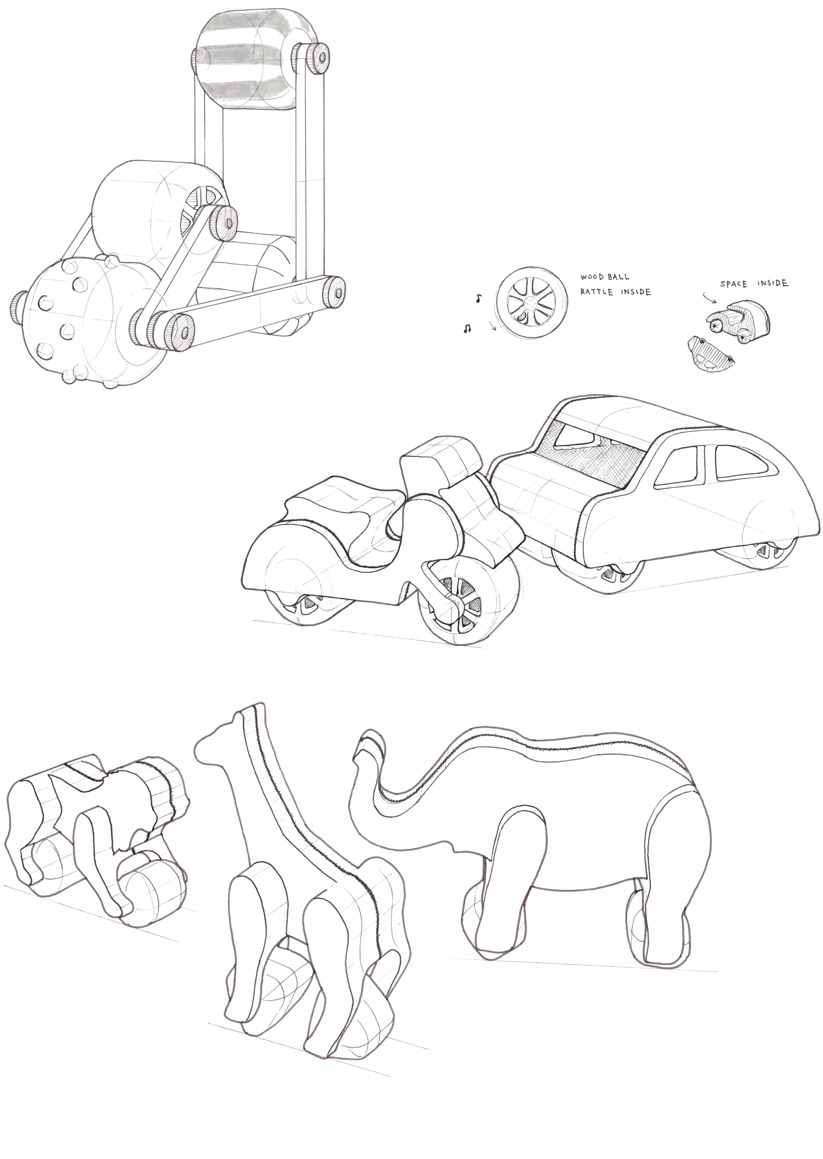 Shop Process
Final model was hand made in model shop. No CNC. Here is the plan I made prior to making the model.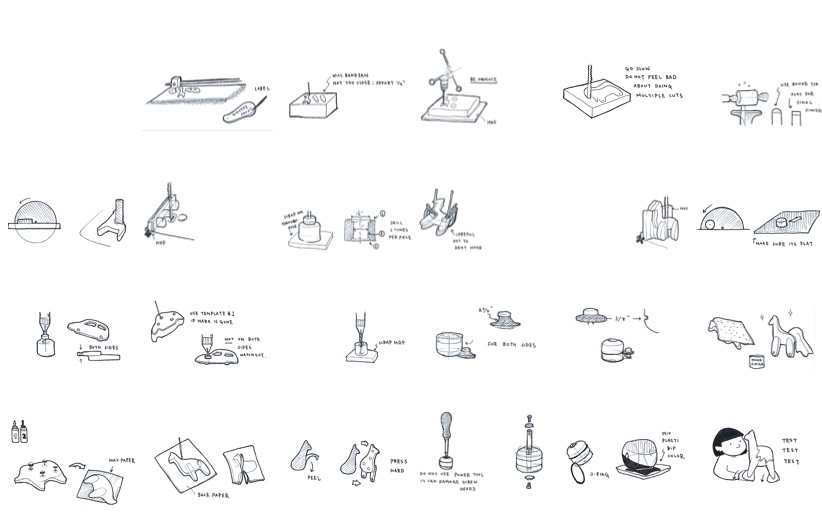 Model Making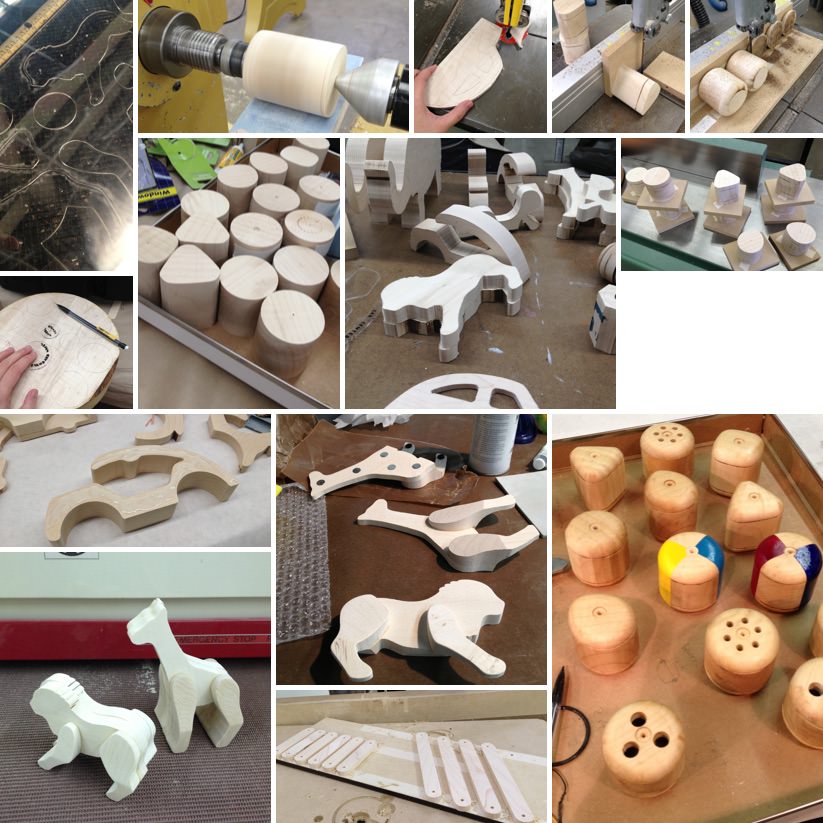 Benefits
Snap and Roll Toy Series is a toy system which children can play for years on three phases: learning colors / shapes / sounds, playing by connecting balls with the bridge, and role play. Children can play with this toy for years only by adding items instead of replacing with a new toy every year.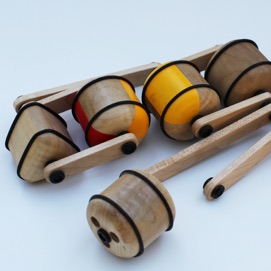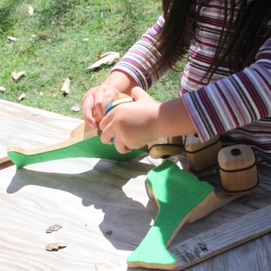 Very Special Thanks to:
Claire
Gigi
Jasper
Journey
Townes
Alex C.
Joshua N.
Christopher W.
Yuko S.
for Interviews, Advice, and Support.